Jie Zhang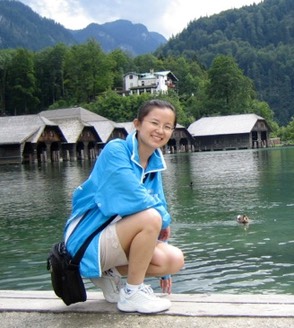 My general research interests include
Concrete technology:
nondestructive testing in civil engineering (resistivity, ultrasonic)
Microstructure of cement-based materials:
microstructure characterization, modeling
Early age properties of cement-based materials:
hydration mechanism, material properties
My current research project is studying the early age hydration kinetics of cement under certain environmental conditions, such as the high temperature and pressure in oil wells. My goal is to predict both the setting and demolding times of cement paste with minimal information. This work follows the research done by Dr. Sulapha Peethamparan, who recently left to take an academic position in Clarkson University.

Biography

Jie joined Prof. Scherer's group as a postdoctoral research associate in August 2008. She received her PhD in civil engineering in July 2008 from The Hong Kong University of Science and Technology. Her doctoral research work was on microstructure study of cementitious materials using resistivity measurement. Jie received her bachelor's degree in hydraulic engineering from Tsinghua University, Beijing in June 2004.

Publications

•Zhang, J., and Li, Z., "Application of GEM equation in microstructure characterization of cement-based materials." submitted to Journal of Materials in Civil Engineering, ASCE.

•Zhang, J., Qin, L., and Li, Z., (2008) "Hydration monitoring of cement-based materials with resistivity and ultrasonic methods." Materials and Structures, in press, and electronically published at http://www.springerlink.com/content/jvg22625724072j1.
•Zhang, J., and Li, Z., (2007) "Comparison of early age resistivity development between ordinary Portland cement and calcium sulfoaluminate cement." presented at the 12th International Congress on the Chemistry of Cement, Montreal, Canada.

•Zhang, J., and Li, Z., "Temperature correction of electrical resistivity measurement for cement-based materials." submitted to Construction and Building Materials.

•Zhang, J., and Li, Z., "Compatibility of superplasticizer with different cements studied by non-contacting resistivity measurements." submitted to Journal of the American Ceramic Society.

•Zhang, J., and Li, Z., (2006) "Hydration process of cements with superplasticizer monitored by non-contact resistivity measurements." in Proceedings of Advanced Testing of Fresh Cementitious Materials, Stuttgart, Germany, 177-185.

•Li, Z. and Zhang, J., "Delta phenomenon in resistivity of calcium sulfoaluminate cement." submitted to Cement and Concrete Research.