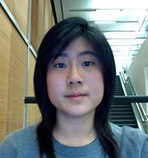 Evaline Tsai
Dept. Chem. & Bio. Eng.
Princeton University
Princeton, NJ 08544 USA
Project: Sustainable concrete

     I am a sophomore at Princeton University concentrating in Chemical and Biological Engineering and pursuing certificates in Environmental Studies and Sustainable Energy. 
     My research in the Scherer Materials Research Group focuses on making concrete more sustainable. Because reducing the amount of cement used in concrete translates to a decrease in CO2 emissions, using substitute materials such as fly ash is environmentally beneficial. However, adding fly ash detracts from the performance of air entraining agents (AEAs) that provide frost resistance to concrete. The objective is to use NMR to study the adsorption of air entraining agents (AEAs) on fly ash and its influence on frost resistance effectiveness.
     I would like to thank Princeton Environmental Institute (PEI) for funding my project and providing me the opportunity to conduct innovative research that seeks to address climate change.