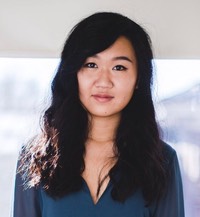 Ms. Sarah Wang
Dept. Chemical & Biological Eng.
Princeton University
Princeton, NJ 08544 USA
Project: Calcium Oxalate Coatings for Marble Protection
Research Interests
• Materials science for art and monument conservation
• Materials characterization and processing
     Sarah is a junior in the Chemical and Biological Engineering Department conducting independent work with George Scherer's Materials Research Group. Her project is improving the performance of calcium oxalate coatings for marble and calcite stones. Calcium oxalate can act as a barrier against acid attack, but it often forms porous layers that do not fully protect the underlying stone. To combat this, Sarah is experimenting with adding calcium ions to oxalate solution in order to facilitate the formation of more cohesive coatings.
Biography
     Sarah is from Glendale, Arizona and was very excited to see snow for the first time her freshman year. On campus, she is active in Innovation, a student-run science organization, and the Princeton University Materials Research Society.